PKA, the Danish pension and life insurance company, partners with Osmosis Investment Management & Nykredit Portefølje Administration to launch a customised Resource Efficient Global Core Equity Strategy
The portfolio was developed through collaboration and is based on the historical investment performance of the Osmosis Core Equity suite of strategies which evidence the ability to significantly reduce a portfolio's environmental exposure to carbon, water and waste while simultaneously targeting a better risk-adjusted return
PKA selected Osmosis for its risk-controlled approach to sustainable investment which does not simply focus on reducing a portfolio's environmental footprint at any cost. The company targets the additional risk that targeting sustainable outcomes brings into a portfolio towards its proprietary source of uncorrelated return.
The portfolio is ex tobacco, excludes companies in breach of the UN Global compact and integrates PKA specific ethical exclusion screens
The portfolio demonstrates carbon reductions which already meet the 2030 Paris carbon reduction targets and currently has a temperature alignment score of 1.96 degrees vs 2.51 degrees for the MSCI World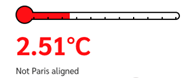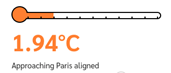 Relative to the MSCI the portfolio is 58% more Resource Efficient, delivering significant reductions in relative ownership of Carbon (50%), Water (57%) and Waste (67%).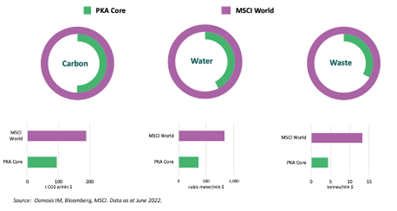 The Osmosis approach seeks to reduce environmental savings across the broader economy, not simply overweighting lower emissions sectors such as technology. The portfolio targets overweight exposures to Resource Efficient companies and underweight exposures to resource inefficient companies across 34 economic sectors as identified by the company's proprietary research process
Sustainable asset manager, Osmosis Investment Management, has today announced a partnership with PKA which will see the launch of a Resource Efficient Core Global Equity Portfolio.
"Partnering with Osmosis allows us to raise our ESG effort and make an even greater sustainable impact with our equity investments, supporting the most resource-efficient industry leaders across a substantial number of sectors. Importantly we can maintain the risk-adjusted approach that is characteristic of PKA's equity strategy. Osmosis has an impressive track record that combines significant environmental savings with attractive returns through a proven data-driven approach, that will help support the pensions of our members."

Michael Nellemann Pedersen CIO, PKA
The Osmosis Resource Efficient Core Equity Strategy targets maximum exposure to the Osmosis proprietary Resource Efficiency Factor within a tight tracking error while seeking to replicate the style, industry, currency, and risk exposures of the benchmark. The Osmosis Resource Efficiency factor is derived from an objectively driven research program and is the only approach that focuses on reducing portfolio ownership of three key environmental metrics, Carbon, Water and Waste while targeting better risk-adjusted returns than the parent index.
Developed for clients as a core equity replacement, the strategy allows investors to target an uncorrelated source of sustainable alpha while greatly reducing their environmental footprint.
Assets in the Core strategies will exceed $2.75 billion, with this latest investment driving the firms' total assets to over $3.7 billion.
"PKA is our first Danish client and joins a growing roster of forward-thinking investors who are addressing the issues of environmental risk in their portfolios, while simultaneously targeting a better risk-adjusted return, to meet the long-term funding requirements of their customers. Announcing this partnership with PKA further underscores our firm's investment philosophy and thesis, that economic and environmental returns need not be mutually exclusive, and that resource-efficient firms outperform their same-sector peers."

Ben Dear, CEO, Osmosis Investment Management
"We are very excited to have partnered up with PKA on the launch of a new fund whose primary focus is investment in support of the green transition. Corporate responsibility lies at the very core of Nykredit's business, and the new fund is in natural alignment with our strategy of offering a broader range of sustainable investment opportunities. We therefore look very much forward to continuing our successful collaboration with PKA and Osmosis."

Jonas Ellegaard, Nykredit Portefølje Administration
For more information, please contact Lisa Harrison on 07716 912832 or [email protected]
Important Information
This document is issued by Osmosis Investment Management UK Ltd ("OIM UK") which is regulated in the UK by the FCA. OIM UK is a subsidiary of Osmosis (Holdings) Limited, a London-based investment management group. OIM UK is an affiliate of Osmosis Investment Management US LLC ("OIM US"). Osmosis Investment Management AUM includes discretionary assets under management of OIM US and OIM UK and assets invested in model programs provided by OIM US and OIM UK. Osmosis Investment Management AUM includes discretionary assets under management of OIM US and OIM UK and assets invested in model programs provided by OIM US and OIM UK.
NO REPRESENTATION IS BEING MADE THAT ANY ACCOUNT WILL OR IS LIKELY TO ACHIEVE PROFIT OR LOSSES SIMILAR TO THOSE SHOWN. The Osmosis Resource Efficient Core Equity Fund is not available for U.S. Investors. A Client's account will be managed by Osmosis based on the strategy, but the actual composition and performance of the account may differ from the Fund due to differences in the timing and prices of trades, and the identity and weightings of securities holdings.
Performance
Net Performance. Net returns are net of fees and in USD unless indicated otherwise. Net returns are net of fees, costs and dividend withholding tax. Different fees may apply to a client's account and a client's returns may be further reduced by the advisory fee and other expenses incurred in the management of its account. Please see the specific performance disclosure under each table for additional details.
Benchmarks. The historical index performance results for all benchmark indexes do not reflect the deduction of transaction, custodial, or management fees, the incurrence of which would have the effect of decreasing indicated historical performance results. Indexes are unmanaged and are not available for direct investment. The historical performance results for all indices are provided exclusively for comparison purposes only and may or may not be an appropriate measure to provide general comparative information to assist an individual client or prospective client in determining whether Osmosis performance meets, or continues to meet, his/her investment objective(s). The referenced benchmarks may or may not be appropriate benchmarks against which an observer should compare our returns.
The MSCI World Index captures large and midcap representation across 23 Developed Markets countries. With 1,645 constituents, the index covers approximately 85% of the free float-adjusted market capitalization in each country.
The temperature score is based on the Cambridge university model, set out in the report "understanding the Climate Performance of Investment Funds' (Cambridge Institute for Sustainable Leadership July 2021) and has been calculated by independent ESG data firm Integrum ESG. The UN Paris Agreement binds its signatories to a goal of limiting global warming to well below 2 degrees celcius, preferably to 1.5 degrees celcius, compared to pre- industrial temperatures. Integrum ESG label a temperature score between 1.5 and 2.0 as 'approaching Paris Aligned".
---