Osmosis partner with IMAS Foundation to launch $250m 'fossil fuel free' Resource Efficient Core Equity Fund*
The Osmosis Resource Efficient (ex-fossil fuels) Fund was developed in collaboration with IMAS Foundation, a sister foundation to the INGKA Foundation – the owner of INGKA Group – which owns and operates the majority of the furniture giant IKEA's department stores globally
Differentiated divestment approach addresses not only the supply side of fossil fuel energy generation but also the demand side through the over and underweighting of resource efficient companies across the broader economy
The Fund seeks to protect investors from any potential value destruction as regulatory and financial pressures on the fossil fuel industry intensify while limiting the financial impact of any reflation in asset prices in the energy sector as the global economy recovers post-Covid 19
By maintaining tight country, industry, and sector weights to the benchmark the Fund addresses concerns that fossil fuel divestment products simply underweight energy and overweight tech sector exposures
Portfolio delivers significant reductions in ownership of Carbon (-67%), Water (-69%) and Waste (-46%) relative to the parent index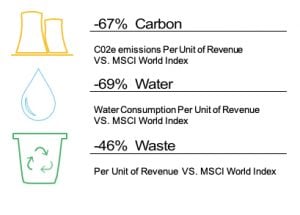 "Increasing numbers of institutional investors are seeking to reduce exposure to, or exclude, fossil fuel-related companies from their core equity portfolios, but there are concerns about taking an industry-related energy bet. Although the future looks bleak for companies involved in the carbon-based energy sector, short to medium term asset price reflation as the global economy recovers is not out of the question. Our models show that the additional return derived from targeting Resource Efficiency will help offset any such asset price reflation, thus mitigating the short-term performance variance that may occur through such price movements. It is important when seeking to divest exposure to fossil fuels, that additional mitigation is undertaken to deal with the demand side of this energy source. We have achieved this while also reducing the portfolio's exposure to water and waste, additional environmental risks that are rising up the sustainability agenda. IMAS is a long-standing client, and we welcome the opportunity to launch this innovative Fund together and thank them for their continued support."Ben Dear, CEO Osmosis says
The Resource Efficient Core Equity (ex-fossil fuels) Fund is modelled on Osmosis' flagship Core Equity Fund and will systematically maximise exposure to Resource Efficient companies on a sector relative basis. The Fund excludes companies directly involved in fossil fuel production, exploration, and extraction, and those companies that gain more than 5% of their revenue from fossil fuels or nuclear power generation. Companies associated with nuclear weapons, controversial weapons, civilian firearms, tobacco, thermal coal, oil sands and businesses that are not compliant with the United Nations Global Compact principles are also excluded from the new Fund. In total, ~170 companies that are constituents of the MSCI World index are omitted from the investment universe.
The Osmosis and IMAS collaboration is the latest partnership to launch an ex-fossil fuel strategy, amid growing investor appetite to remove carbon risk from investor portfolios. The Osmosis strategy departs from the blunt and binary fossil fuel divestment approach, through addressing both supply and demand utilising our proprietary approach to identifying Resource Efficient companies. And in line with the company's investment thesis, the portfolio targets a more comprehensive environmental outcome, significantly reducing ownership of water and waste. The Resource Efficient Core Equity Fund (ex-fossil fuels) will demonstrate 67% less carbon than its MSCI World benchmark and 69% less water consumption and 46% less waste.
"Ben and his team share our belief that the efficient use of scarce natural resources is critical to the future health of our people and planet. Addressing these externality risks can also contribute to long-term economic returns, while simply excluding fossil fuel companies may lead to sub-optimal results. The Osmosis Resource Efficient ex-fossil fuel strategy takes a very comprehensive, risk optimised approach, addressing environmental concerns regarding carbon, water consumption and waste creation, which ultimately should lead to outperformance in relation to the MSCI World index."Henrik Lundin, CIO IMAS saysThe strategy targets a 90 bps ex-ante tracking error and through tight risk parameters, closely replicates the risk profile of the benchmark while targeting maximum exposure to the Osmosis proprietary Resource Efficiency Factor. The Osmosis Resource Efficiency factor is derived from an objectively driven research program. It is the only approach that focuses on reducing portfolio ownership of three key environmental metrics, Carbon, Water and Waste while targeting better risk-adjusted returns than the parent index.
The strategy will allow institutional investors to target an uncorrelated source of sustainable alpha from their core equity exposure with a positive environmental focus and will bring Osmosis' ex fossil fuel assets under management to over $600m. The Osmosis Resource Efficient Low Volatility Fund, which also excludes fossil fuels, was seeded by the Swedish National Pension Fund AP1 in 2016.
*This Fund is currently not available to US Investors