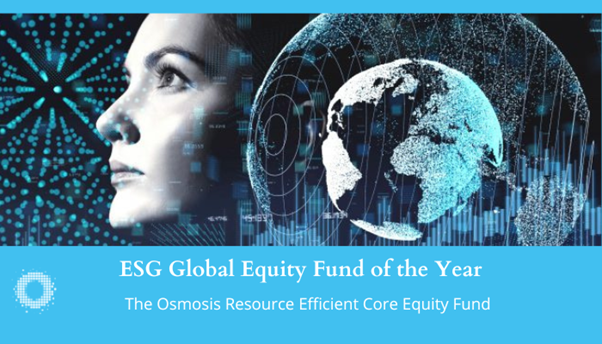 LONDON (March 6, 2023) Environmental Specialist Osmosis Investment Management today announced that its flagship Resource Efficient Core Equity Fund has been named "Best Global Equity Fund" for 2023 by ESG Investing, a London-based media platform covering ESG and sustainable investing for fund managers, institutional investors, and listed companies, at the ESG Investing Awards ceremony held on February 23, 2023.
The ESG Investing Awards 2023 are devoted to assessing and evaluating the best companies involved in all areas of ESG investing across the globe and are designed exclusively for banks, investment managers, research houses, ratings agencies, index and ETF providers, and exchanges. Awards categories are assessed by a panel of independent judges comprising financial market professionals, academics, and independent experts.
Osmosis was founded in 2009, a quantitative investment house with a single focus on Resource Efficiency. With over 12 years of experience of working with institutional investors to manage the environmental risks in their portfolios, Osmosis is a leading provider of sustainable investment solutions. Osmosis has developed a suite of differentiated regional and global environmental strategies, all of which put their proprietary Resource Efficiency Investment Factor at their core.
Osmosis launched the award-winning Resource Efficient Core Equity Fund in May 2017. This award is testament to the consistent financial and environmental outperformance relative to the benchmark, delivered through challenging times.
The Fund was developed as a core replacement product which would target better risk-adjusted returns while significantly reducing the environmental impact of an investor's passive exposure. All portfolios targeting a sustainable outcome will naturally bring in active risk relative to a market cap-weighted benchmark. The Osmosis program is unique in that the active risk is controlled and targeted towards an uncorrelated sustainable alpha signal: the proprietary factor of Resource Efficiency.
"We are delighted to have won this ESG investing award with a strategy dedicated to the environment. When we developed the Core Equity Strategy, we wanted to ensure that the risk budget allocated by our clients to reduce the environmental footprint of the portfolio was not left unrewarded. The performance of the Fund from both a financial and environmental perspective has evidenced that investing sustainably and delivering a better risk- adjusted return is feasible, even during challenging market environments."

Robbie Parker, CFA, Chief Investment Officer
The Core Equity portfolio targets a better risk-adjusted return through its overweight exposures to resource-efficient companies and underweight exposures to inefficient companies and delivers an immediate reduction in Carbon, Water and Waste ownership in excess of 50% relative to the current portfolio.
The Osmosis Model of Resource Efficiency is the product of thirteen years of dedicated in-house quantitative and proprietary environmental data research that involves collecting, cleaning, and standardising the carbon emissions, water consumption and waste generation of over 850 companies worldwide. This process allows for an objective sector-relative evaluation of a corporate's environmental balance sheets.
Osmosis would like to thank all the judges and offer congratulations to all the other well-deserved winners and finalists.

The ESG Investing Awards are free to applicants and open to all organisations globally. Please note that the Core Equity Fund is currently not available to US investors, but similar strategies can be provided on a customised basis. The award relates to the annual period end December 21 to end Dec 22.
To learn more about the Core Equity Fund please click here to view our video.
---
About Osmosis Investment Management
Osmosis launched in 2009 and is majority-owned by management and employees. The company currently manages over $9bn in sustainable assets and is headquartered in London with a growing presence in Europe, North America, and Australia. The company believes that targeting better risk-adjusted returns and delivering significant environmental impacts do not need to be mutually exclusive endeavours. Through their unique Model of Resource Efficiency, the company has demonstrated that sustainability metrics, if quantifiable and objective in nature, can be applied to mainstream equity portfolios to generate alpha.
The Osmosis team of quantitative environmental analysts and portfolio managers is singularly focused on delivering three levels of impact. Better risk-adjusted returns, measurable environmental reductions, and an active engagement programme to promote better corporate environmental disclosure.
Government Pension Funds, State Pension Funds, Insurance Companies, Foundations, Endowments, Family Offices and Banks are amongst their client roster spanning North and South America, Australia, Mainland Europe, the Nordics, and the UK.
For more information, please contact Lisa Harrison at Osmosis Investment Management [email protected] + 44 7716 912832.