As we witness the exponential growth of e-commerce, the demand for swift deliveries has increased. However, the inefficiencies of traditional last-mile delivery processes, particularly in urban areas, pose significant challenges. Congested streets and escalating traffic contribute to both operational costs and environmental pollution.
Challenges of Last Mile Deliveries

Recent studies, including one by the World Economic Forum[i], project a 32% increase in urban delivery-related traffic emissions by 2030. The majority of these emissions originate from the 'last mile' delivery stage, an inherently inefficient process characterised by low product volume and a high number of destinations. The Hellenic Institute of Transport state that 20-30% of carbon emissions in Thessaloniki, Greece's second-largest city, come from last-mile deliveries[ii].
While many of us often think of e-commerce giants like Amazon, eBay, and ASOS when discussing deliveries, it's important to note that it's third-party vendors, such as UPS and DHL, that often handle the crucial last-mile delivery stage*. In 2022, UPS alone handled 1.3 billion Amazon parcels[ii]. As a result, these final-stage delivery companies shoulder a significant portion of the emissions attributed to "last mile" delivery.
Benefits of Waterway Deliveries:
Environmental Impact: Significantly lower carbon emissions compared to traditional last-mile deliveries.

Efficiency: Streamlined delivery processes with potential time and cost savings.

Innovation: Pioneering a sustainable approach that aligns with efforts to combat climate change.
A Sustainable Solution: Leveraging Waterways
Recognising the urgency to address these challenges, industry leaders such as UPS and DHL have pioneered innovative solutions utilising waterways for last-mile deliveries. Urban barge short-sea shipping (SSS) programs have demonstrated a substantial reduction in urban delivery emissions, alleviated congestion, and curtailed hazardous air pollution.

At Osmosis Investment Management, we've closely observed the carbon emissions, water consumption, and waste generation of these entities. Both UPS and DHL demonstrate above-average efficiency compared to their peers and sit in the top half of our model of resource efficiency. DHL showcased particularly impressive carbon-related intensity performance in 2023.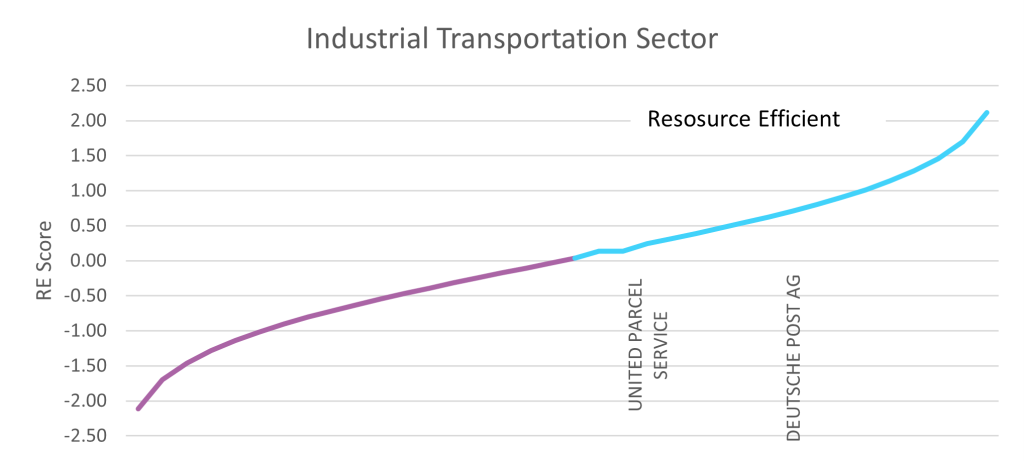 Source: Osmosis Model of Resource Efficiency, data as of end of September 2023.
DHL's London Riverboats
DHL (owned by Deutsche Post AG) launched its London riverboat delivery service in September 2020, supported by the UK's Urban Transport Group UTG)[iv]. Although in its pilot stage, this high-speed service has made 50,000 shipments annually on the River Thames, with plans for future expansion. The Port of London Authority attests that energy consumption for goods moved by waterways is only 17% that of road freight and 50% of rail transport[v].
UPS's New York Barges
Similarly, UPS has initiated barge-based delivery trials on the Hudson River in New York City, aiming to circumvent the city's congested roads and bridges. This pilot program, in partnership with the U.S. Department of Transportation's Maritime Administration, aligns with UPS's goal of achieving carbon neutrality by 2050.
Both DHL and UPS are combining their riverboat services with other sustainable methods like bike deliveries and electric vehicle fleets. DHL has committed to a fully electric vehicle fleet in the UK. by 2030, and UPS continues to deploy alternative fuel and advanced technology vehicles.
Environmental Management as a Driver of Value Creation
At Osmosis Investment Management, we firmly believe that effective environmental management contributes to value creation. Entities efficiently managing their resources and minimizing their impact on the planet are better positioned to outperform their peers, both environmentally and financially.
Programs such as these not only indicate good and efficient management strategies, but such services reduce corporate exposure to climate-related transition risks as the global economy shifts to a more sustainable and lower-carbon model. Regulations like the Ultra Low Emission Zone (ULEZ) in London, which imposes daily charges for heavy vehicles that do not meet emissions standards, highlight the importance of embracing innovative solutions to stay ahead of regulatory and reputational changes. Entities embracing innovative ways to stay ahead of the curve will better weather the changing landscape and be well-placed for the transition that lies ahead.
The Osmosis Model of Resource Efficiency
Osmosis pioneered a unique research process to standardise unstructured corporate environmental data, enabling the construction of our proprietary sustainable investment factor.
Utilising publicly disclosed corporate environmental data from 2005 onwards, our in-house research team standardises carbon, water and waste data to sector specific frameworks. We believe this three-factor model delivers a comprehensive approach to environmental investment. Our stock specific resource efficiency factor score provides context and relative comparability to the environmental balance sheets of companies within 34 sectors.
*Any views expressed are those of Osmosis only and should not be construed as investment advice or in any way recommending a specific security. The examples of specific investments described herein should not be considered a recommendation to buy or sell any specific securities. There can be no assurance that such investments will be purchased in a client's portfolio. It should not be assumed that any of the investments identified in these case studies will be profitable in the future.
[i] https://www3.weforum.org/docs/WEF_Future_of_the_last_mile_ecosystem.pdf
[ii] https://ec.europa.eu/research-and-innovation/en/horizon-magazine/carbon-cost-home-delivery-and-how-avoid-it
[iii] https://www.justshipit.co.uk/amazon-trying-to-take-over-shipping-from-third-party-courier-companies/
[iv] https://dhlguide.co.uk/riverboat-thames-service/
[v] https://crossriverpartnership.org/wp-content/uploads/2022/04/Getting-Started-with-River-Freight-A-Guide-for-Businesses-4.pdf
---
Important Information
This document was prepared and issued by Osmosis Investment Research Solutions Limited ("OIRS"). OIRS is an affiliate of Osmosis Investment Management US LLC (regulated in the US by the SEC) and Osmosis Investment Management UK Limited (regulated in the UK by the FCA). OIRS and these affiliated companies are wholly owned by Osmosis (Holdings) Limited ("Osmosis"), a UK based financial services group. Osmosis has been operating its Model of Resource Efficiency since 2011.

The information contained in this document has been obtained by Osmosis from sources it believes to be reliable, but which have not been independently verified. Information contained in this document may comprise an internal analysis performed by Osmosis and be based on the subjective views of, and various assumptions made by Osmosis.